Traeger smokers and grills are a name brand of a pellet grill. Think of "Traeger" the way you would think of "Ziplock" or "Kleenex." Those are brands of bags and tissues, but when you say the name, someone knows what you mean.
There are a number of other pellet grills and smokers that would be considered competitors to a Traeger: Camp Chef, Green Mountain Grills, Rec-Teq, Z Grills, Pit Boss, and Grilla Grills. You can read more about these alternative brands here.
Traeger the brand itself was founded in 1985, and was the first pellet grill of its kind. The Traeger smoker grills have evolved over the years, but one thing is certain - a Traeger is the top of the line pellet grill.
We started using ours in 2019 and while we had our initial reservations coming from charcoal grilling, we have grown to love it! Before we get into how to use a Traeger smoker grill, let's answer some basic questions.
Is a Traeger a smoker or a grill
One of the most common questions asked about pellet grills - they're called grills, but their functionality is that of a smoker. So, is a Traeger a smoker or a grill?
First, there are some grilling basics that are important to understand.
The three most common types of grills are charcoal grills, gas or propane grills, and pellet grills. The biggest difference between the three types of grills is the fuel source. The fuel source affects how the grill cooks food, and the flavor of the food itself.
As the name suggests, smokers use actual smoke to cook food. While smokers can be charcoal, gas, wood or electric, the the gas smokers and electric smokers are generally much easier to use and require less adjustment.
One of the biggest differences between grills and smokers is that they use very different temperatures to cook food. In general, the internal temperature of a grill will be very hot – getting to high temperatures, as much as 400 degrees Fahrenheit or more to cook food.
In contrast, the internal temperature of a smoker will range much lower – low temperatures anywhere between 160 and 300 degrees Fahrenheit. Meat smokers also tend to take a lot longer to complete the cooking process, but that is also part of the appeal.
Traditional smokers use indirect heat and work through the combination of a water basin and a wood chip basin placed in the bottom of the smoker chamber. The wood from the wood chip provides the smoky flavor and produces the smoke, while the water helps keep the internal temperature stable.
Grills, on the other hand, offer the flexibility to cook your food in many different ways. Grills can be powered by electric, charcoal or gas, but gas and charcoal grills are generally preferred to electric grill models as they produce a better flavor.
With smoking, the goal is to cook meats for an extended period of time and at a low temperature to infuse the flavor into the meat.
The process is much slower (and often takes hours), but requires less tending, since the meats do not have to be turned or adjusted as frequently as with a grill.
Now, based on all of this information, a Traeger is classified as a smoker, even though it is called a pellet 'grill'. It uses indirect heat, uses smoke to cook the food, and typically cooks slower than a grill would, particularly with larger cuts of meat.
It does sort of bridge the gap between the two, though - as it has an electric component that maintains temperature and fuels the smoker with pellets without you having to babysit it, and it does not use water at all.
How does a Traeger smoker work
Traeger pellet grills heat and flavor food with hardwood pellets. Unlike gas or charcoal grills, wood pellet grills don't cook food over an open flame.
Rather, pellet grills cook food via indirect heat and smoke (hence, the classification of smoker). With indirect heat, food cooks evenly with no need to worry about shifting around your meats to avoid flare-ups and hotspots.
So how does the Traeger itself work? The process is pretty simple and amazing, all at the same time.
All-natural hardwood pellets are moved from the hopper to the fire pot by an auger, where they're ignited to feed the flames. The hopper looks like this:
A fan circulates heat and smoke for even, consistent cooking, and a drip tray keeps flames off your food.
It's all operated by a digital temperature control that maintains precise temperature, adjusting up and down as needed for even cooking, without any additional work on your part.
One of the things I love about our Traeger is how easy it is to use. Setting the temperature on a Traeger grill is literally as easy as turning on your oven.
You make sure the smoker is plugged in, turn it on, set the temperature you want it to heat to, and hit the "IGNITE" button.
Then walk away. The newer models are all enabled with WiFIRE®, which is Traeger's wireless control system – so the app on your phone will notify you when the smoker gets to the right temperature.
How to start a Traeger smoker
Starting in 2016, Traeger started using a closed-lid startup process for their grills. If you have an older model, or you aren't sure if you should follow a closed-lid or open-lid startup, you can check this guide on the Traeger site to find out.
Starting your Traeger smoker is super super simple (please note these steps are for the closed-lid process):
Plug in the Traeger and turn the flip the power switch to "ON" on the pellet grill, keeping the lid closed.
Set your chosen temperature using the dial. Once you've got it, hit the "IGNITE" button to start up the smoker.
You'll hear the fan start to whir and it starts igniting the pellets and creating more smoke. This is good, this is what you want!
It will take about 10 more minutes to preheat the grill, depending on the temperature you have chosen.
How to cook on a Traeger grill
So now that we know what a Traeger is, and we've gotten it started up, let's get cooking!
Cooking with indirect heat can have a bit of a learning curve to it, but I suspect you're going to be loving your Traeger in no time once you learn the basics.
Keep in mind that cooking on a Traeger pellet grill will be different than cooking on a gas or charcoal grill, if you're used to those.
The basic principles of cooking remain the same - food will just take a bit longer to cook as you are working with indirect heat. (Trust me, it's worth the wait.)
Your Traeger likely came with a thermometer. If it didn't, I highly recommend you get one. Particularly if you are used to cooking on a regular grill, you'll need some help monitoring the internal temperature of what you're cooking.
Now, here's the most basic rule of cooking meat: Cook meat for 20 minutes a pound at 350 degrees F.
That's pretty vague. It doesn't consider doneness, type of meat, or cut of meat. But it's a great starting point for learning the basics.
If you're using lower temperatures, add more time per pound. If you're cooking with high temperatures, it will take less time per pound.
When cooking larger pieces of meat, always start at a medium heat, around 250-275. If you start cooking a big piece of meat at too high a temperature, you drive the blood in the meat to the surface, creating unsightly blood spots on the meat.
(Not to mention making it tougher. Low and slow is the name of the game!)
Other things you can cook on a Traeger
The other amazing thing about a Traeger is that you can use it for baking, roasting, and a whole host of other things.
For example, you can bake a pizza on the Traeger. Or cookies. Or roast vegetables. Or smoke a cocktail.
Remember when I told you you were going to love your Traeger?
How to clean a Traeger smoker
Ok, so we've started it up and cooked some amazing stuff, and now it's time to clean it. First, let's cover the #1 rule of owning a Traeger: do not spray water or liquid cleansers inside your grill, ever!
You want to keep the inside dry, always. We are working with wood and smoke and you do not want water or cleansers mixed in there. You can get your Traeger smoker grill plenty clean with the instructions below.
Top 5 Traeger cleaning tips:
1. Invest in a Traeger Grill Cover. If a Traeger is stored outside during wet weather, water can get into the Pellet Hopper. When pellets get wet, they expand and can clog the auger. Additionally, a Traeger cannot cook with wet wood. If you do not have a cover, take extra care to keep the pellet hopper covered and away from any water.
2. Clean your Grease Drain Pan. Changing the aluminum foil or drip tray liner on the grease pan often is a great first step, but to get the most out of your Traeger you must clean underneath the foil as well. Use a metal spatula to scrape the extra grease and debris from the grease pan and the grease drain tube. Grease is easiest to clean when it is slightly warm. If the grease drain tube becomes plugged or blocked, a grease fire can result. Clean those areas periodically to prevent build-up.
3. Empty your Grease Bucket. This job is not pretty, but it is pretty easy. Empty your grease into something you can discard, such as a plastic cup. Do not pour grease down the sink drain or into the gutter. Be sure to let the grease cool thoroughly before discarding it. Rinse your bucket with hot, soapy water to remove any remaining grease. To make future clean up easier, line your grease bucket with aluminum foil, or buy these easy bucket liners that you can just pull out and toss.
4. Wipe Down your Grill Exterior. To keep that powder coating looking like new, use warm soapy water to cut through any grease. Do not use oven cleaners, abrasive cleaners, or scouring pads on the outside of your grill. Traeger makes an approved cleaner as well, if you prefer to go that route.
5. Remove extra ash from the Firepot. Periodically remove the Porcelain Grill Grate, Grease Drain Pan, and Heat Baffle to clean the ash in and around the Firepot. This step can be fast and easy by using a standard shop vac. Make sure all grill components are cold before vacuuming up the extra ash. We recommend cleaning your Traeger once for every 5 times you use it.
How often to clean your Traeger
Often: Clean the inside of your Traeger
After every use, clean the grill grate with a long-handled, non-metallic grill brush. (This is best done while the grill is still warm, as the cooked on bits haven't had a chance to harden yet.)
After grill has cooled, remove the grill grate, drip pan, and heat baffle.
Inspect the firepot after a long cook or after 3-5 regular cooks. Use a utility vacuum to remove excess ash from firepot and interior of grill.
Replace heat baffle, drip pan, and grill grate and get cooking!
Every 3 months: Clean the outside of your Traeger
Make sure grill is cold and unplugged.
Use a disposable rag and warm, soapy water to clean the outside of your grill to remove any grease.
Apply a high quality car wax to the outside of your grill to protect the coating and prevent rust.
Every 3-6 months: Inspect and clean grease drip
Make sure the grill is cold. Remove the grease bucket and set aside.
Use a non metallic tool (a paint stirrer works great!) to scrape grease from the drain at the bottom of the drip tray and tube leading to the grease bucket.
Clean remaining residue with paper towels or clean rags.
Use your non-metallic tool to scrape grease from the grease bucket, then wipe with paper towels before replacing.
Every 6 months: Inspect and clean your smoke stack
Make sure the grill is cold, unscrew the chimney cap.
Scrape any buildup from the stack with a non metallic tool.
Clean remaining residue with paper towels or clean rags.
If needed, clean chimney cap with warm soapy water before replacing.
Grab the infographic with all this info on the Traeger site here.
How to season a Traeger grill
When you first get your Traeger, you'll want to follow the instructions for priming the auger. This is essentially how you 'season' a Traeger pellet smoker grill for the first time.
If your hopper ever runs out of pellets, you'll need to repeat this process again before continuing to use your Traeger.
Priming the auger allows the auger tube to be "charged" with pellets. The priming and seasoning instructions will be slightly different depending on the model of Traeger you have, and you can find all the different manuals here.
The instructions below are for priming and seasoning the Traeger Ironwood 885:
First, remove your grill grates, grease drip tray, and heat baffle from inside.
With power switch off, plug in the grill, then switch the power on.
When you turn it on, you're looking for it to be in Idle mode - where the display is pulsing. You have to have this on the screen to prime the auger.
Make sure the auger is empty. Press and hold the UP and IGNITE buttons at the same time until you see the display flash "PRI" and the auger begins priming.
Fill the hopper with pellets. It should take about two minutes for the auger tube to fill and dispense into the Hot Pot.
Keep priming until a small amount of pellets are in direct contact with the Hot Rod. Press and hold the UP and IGNITE buttons again to stop priming and return to idle mode.
Put all your grill parts back in.
Set the temperature to 500°F and press IGNITE.
Let the smoker run for 30 minutes with the door closed to complete the seasoning process.
Best pellets for Traeger smoker
Traeger makes a variety of different pellets for their smokers and grills. All of the Traeger brand pellets are all-natural hardwood, are made in America, and are most commonly sold in bags of 20 pounds of pellets.
Their pellets also come in a variety of flavors, which you may change depending on the type of food you're cooking.
Fruit woods like cherry and apple impart a sweeter, more subtle flavor that matches perfectly with poultry, pork, seafood, and baked goods.
Bolder staples like oak, hickory, and mesquite are tailor-made for savory beef, wild game, and vegetables.
The chart below shows you the different flavors of pellets and what they best cook: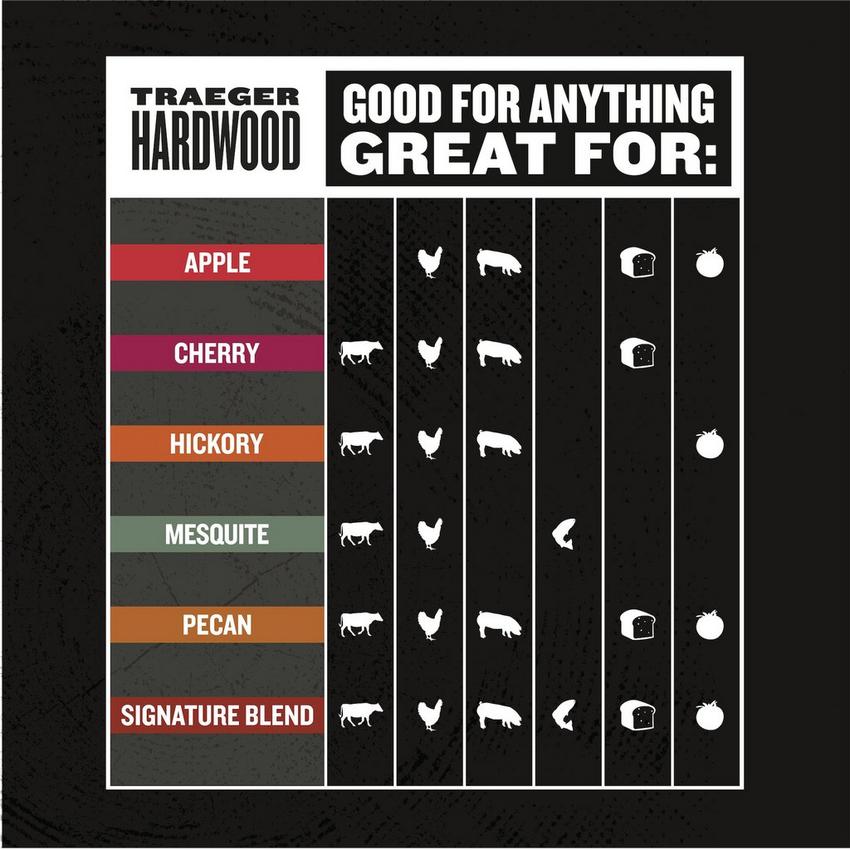 Here are the varieties of Traeger wood pellets available:
TRAEGER SIGNATURE WOOD PELLETS
The flavors of hickory, maple, and cherry hardwoods combine for a blend that can take on just about anything you cook. From classic BBQ meats, to fish and veggies, this versatile blend gives you full-bodied flavor you'll go back to time and time again.
I recommend signature pellets for things like these Traeger Shrimp and this Pulled Pork.
APPLE WOOD PELLETS
Most often used with poultry and pork, apple wood pellets offer a light fruity smoke that helps enhance mild flavored meats.
Apple pellets are a great choice for this smoked pork belly recipe (which you can turn into homemade bacon!)
CHERRY WOOD PELLETS
One of the more flavorful pellets, cherry wood lends itself to applications where you want to add a hearty smoke flavor.
Check out these Beef Ribs. Between the marinade and the cherry smoke, these flavorful ribs don't require any sauce to be exceptionally flavorful.
HICKORY WOOD PELLETS
Probably the most widely used pellets in barbecue, hickory pellets release a strong flavor that complements most meats.
Some people find hickory can be a little strong and like to mix it with a milder pellet like oak or apple.
MESQUITE WOOD PELLETS
A favorite of Texas BBQ, mesquite pellets infuse your meat with hearty smoke flavor. That super smoky flavor is great for recipes like these Southwestern Stuffed Peppers that are begging for a little something extra.
PECAN WOOD PELLETS
Deliciously nutty and even a little spicy, pecan pellets are great with beef, pork, or poultry. They add a great depth to baked goods as well.
Storing your Traeger pellets
The best way to store your unused pellets is to keep them...you guessed it, dry. Moisture does not benefit these guys.
For best results, some recommend not leaving pellets in the hopper, but rather emptying them into an airtight container when you are not using the grill.
We live in a high humidity environment in South Carolina, and have never done this. We keep the hopper closed, the grill cover on, and the grill in a covered location.
Would it be better if we did? Maybe. Do we have the time and the bandwidth to empty every time? No. Have we ever gotten bad results from it? Not that we know of.
Can you use other brands of wood pellets in your Traeger grill?
Yes! Your grill doesn't know the difference.
There are plenty of other brands of pellets out there. Traeger does say their warranty is void if you use other pellets.
Some say this is not enforceable (after all, how will they prove that you used someone else's pellets?) but I can understand where they're coming from. It's hard to hold them responsible if you're bringing other brands into the mix that Traeger has no control over regarding what's in the pellets or how they're made.
We have not ever used anything other than Traeger pellets in ours, so I can't speak to the quality or flavor of any of the other brands of pellets. That said, there are many people who have used other brands in their Traeger without issue.
Traeger pellet smokers and grills: Pros and Cons
There are definitely pros and cons to working with a Traeger pellet grill.
Pros:
Pellet grills are a versatile cooking tool. They preheat quickly, you can easily change the temperature, and your food cooks evenly and gets a delicious, smoky flavor.
Plus, pellet grills can be used with a variety of cooking methods, including smoking, grilling, braising, roasting, and even baking.
You can set your pellet grill's temperature and walk away from it—no babysitting required.
They are so easy to use, and food comes out delicious every time.
Cons:
Pellet grills require an electricity source which can make finding a place for them more difficult than a charcoal or gas grill.
Some people will tell you that you can't get a good sear on a pellet grill, but that's not true. You can get a traditional or reverse seal on Traeger wood pellet grills because they can reach temperatures of 500 degrees.
They're pretty hands off - and if you like the involvement of cooking on a charcoal grill, this might be tough for you. The Traeger doesn't need you to babysit it. A pro for some, a con for others!
Food can take longer to cook, and if you don't plan ahead for that extra time, dinner might be late. We've made this mistake a couple of times.
Here are my recommended Traeger tools that we use every time:
This site contains affiliate links through the Amazon Affiliate program and others, which allow me to earn a small commission when you purchase through them, at no cost to you. Thanks for your support!
This site contains affiliate links through the Amazon Affiliate program and others, which allow me to earn a small commission when you purchase through them, at no cost to you. Thanks for your support!