These 16 healthy pumpkin recipes are perfect for fall. With both savory and sweet options, there's something for all taste buds!
It's fall again, and you know what that means...pumpkin all the things!
Pumpkin almost always shows it's face in dessert - lattes, baked goods, chocolate. But pumpkin doesn't have to be just for dessert. It can be savory, too, and has lots of health benefits. It's fiber dense, which makes it filling.
Pumpkin may be filling, but it's also a low-calorie superstar. Canned pumpkin is nearly 90 percent water, so besides the fact that it helps keep you hydrated, it has fewer than 50 calories per serving.
Here are 16 great healthy pumpkin recipes for your table this fall - all grain free, refined sugar free, and dairy free, so you can indulge without the guilt!
Savory Pumpkin Recipes
1. Pumpkin Carrot Curry Soup from Spinach Tiger
Simple and flavorful, this soup is the perfect warm meal for a chilly fall evening. If you're a hardcore paleo eater or on a Whole30, sub cashew or almond butter in for the peanut butter.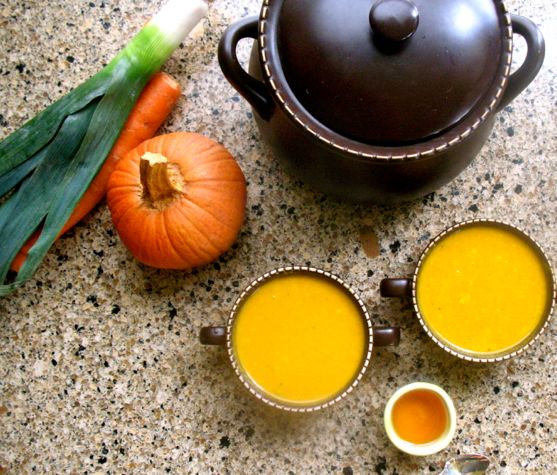 2. Caribbean Pumpkin Curry from That Girl Cooks Healthy
Pumpkin with a kick! If you can't find a scotch bonnet pepper, you can sub a jalapeño or serrano pepper.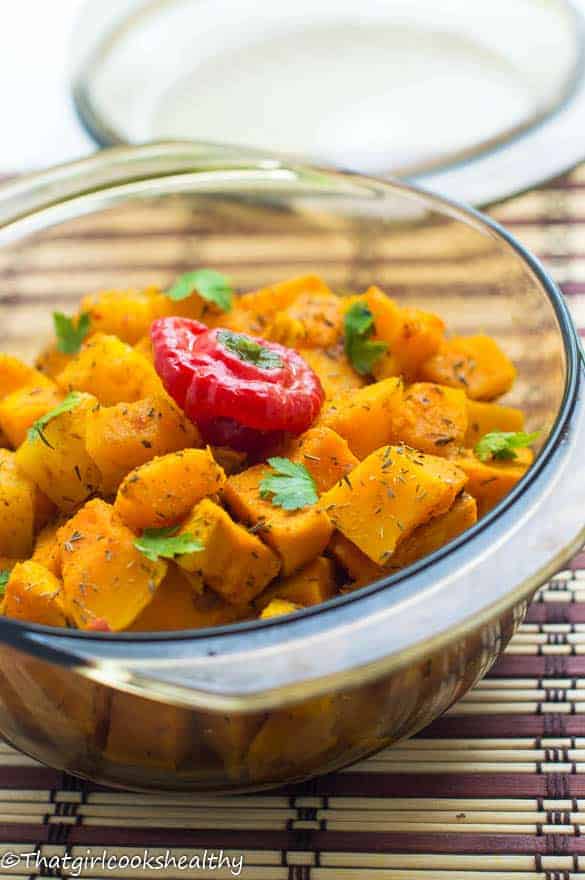 3. Creamy Pumpkin Sauce from Pink Fortitude
This recipe is so simple. The minute I read it, I thought, duh. Why didn't I think of that? You can serve it over gluten free pasta as suggested, or you can put it over veggies - try zoodles or some spaghetti squash. Need protein? Add some shredded chicken or turkey meatballs!
4. Slow Cooker Beef & Pumpkin Stew from Recipe This
Is there anything better than a warm stew cooking in the slow cooker on a chilly day? Don't let the measurements throw you off. I did the math for you! 300g is about ⅔ of a lb. 200g is a little under ½ lb. Stews don't require super exact measurements anyway, so don't worry if it's not perfect!
5. Pumpkin Cream Soup from My Pure Plants
Simple and flavorful. This creamy pumpkin soup doesn't need a lot of additions. Garnish with a swirl of coconut milk and some pepitas for a creamy crunch.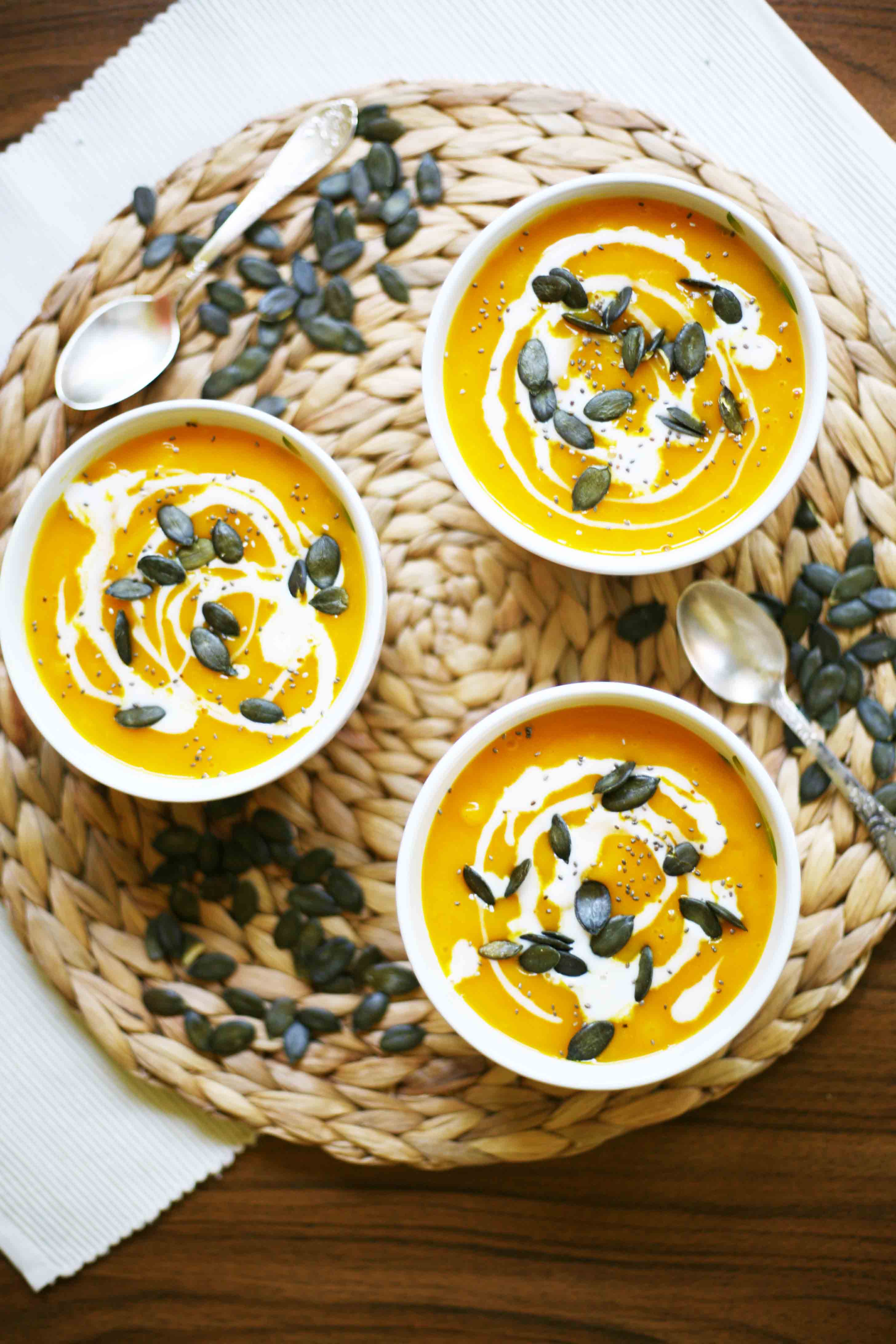 6. Pumpkin Plantain Instant Pot Curry from Recipes from a Pantry
Plantains are my favorite underdog. Add an Instant Pot and curry? Yes, please!
Sweet Pumpkin Recipes
Sometimes, though, we still want that sweet pumpkin comfort flavor that we know and love. For my sweet pumpkin people, here are 10 awesome sweet healthy pumpkin recipes, varying from breakfast to dessert.
1. Pumpkin Breakfast Cookies from The B Keeps Us Honest
Pumpkin and cookies for breakfast? Ok, if I have to! For real, though - have them for breakfast, or anytime you need some pumpkin cookies in your life!
2. Pumpkin Spice Latte from Balancing Motherhood
I love a good pumpkin spice latte from Starbucks - but I don't love the way I feel after that much dairy and sugar. Try this homemade alternative for a treat without the stomachache.
3. Paleo Pumpkin Pancakes from Diary of a Debutante
Since we're already on breakfast with our cookies and our lattes, why not add some paleo pumpkin pancakes to the mix? Gluten free and paleo, these pancakes hit the mark. Want to mix it up? Add some blueberries to the batter. Yum!
4. Coconut Flour Pumpkin Muffins from Leealicious
Coconut flour is one of the best alternative flours for baking muffins. Want to understand the difference between all the alternative flours? Check out my post here. Not into pumpkin muffins? Check out these blueberry chia muffins coconut flour muffins here.
5. Paleo Pumpkin Ice Cream from Leealicious
Dates are like the paleo ninja sweetener, and they make an appearance in this sweet and creamy pumpkin ice cream.
6. Pumpkin Spice Cookies from Texan Erin
I've been making Texan Erin's regular chocolate chip cookie recipe for years now, and let me tell you, there's nothing better. I've never been quite so excited about a cookie as when I found out there was a pumpkin spice option. Be still my heart.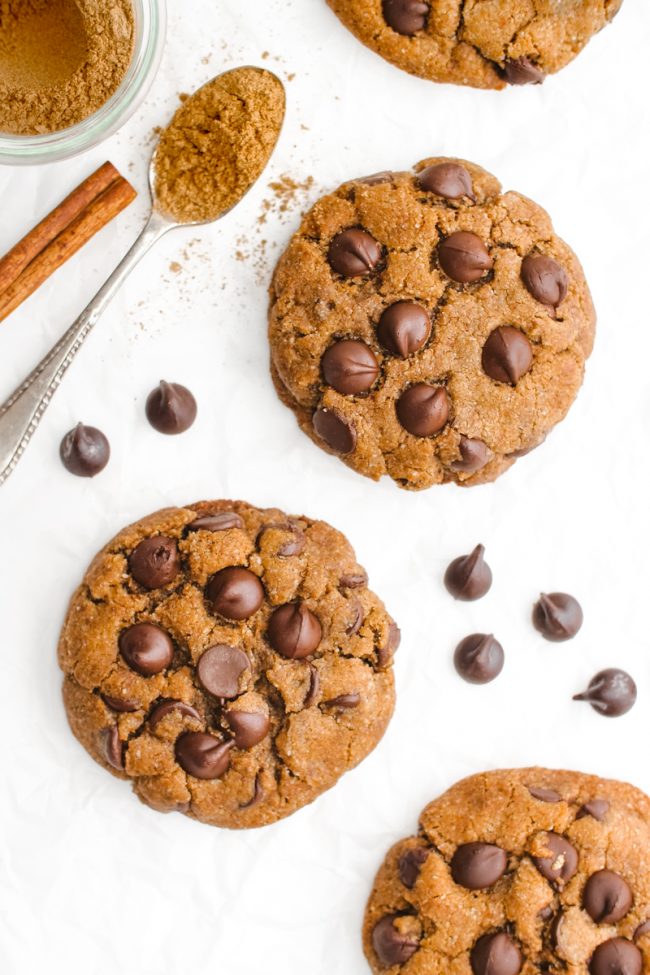 7. Paleo Nutella Pumpkin Swirl Bars from Stress Baking
I love a good swirl in dessert, as evidenced by my Almond Butter Swirl Brownies. Not only are these bars beautiful, they include both pumpkin and paleo Nutella. So much goodness in one little square.
8. Paleo Pumpkin Roll from A Saucy Kitchen
This reminds me of all things not paleo. Swiss roll? This pumpkin version is a great alternative for Thanksgiving dessert, or anytime you get a pumpkin craving! Yum!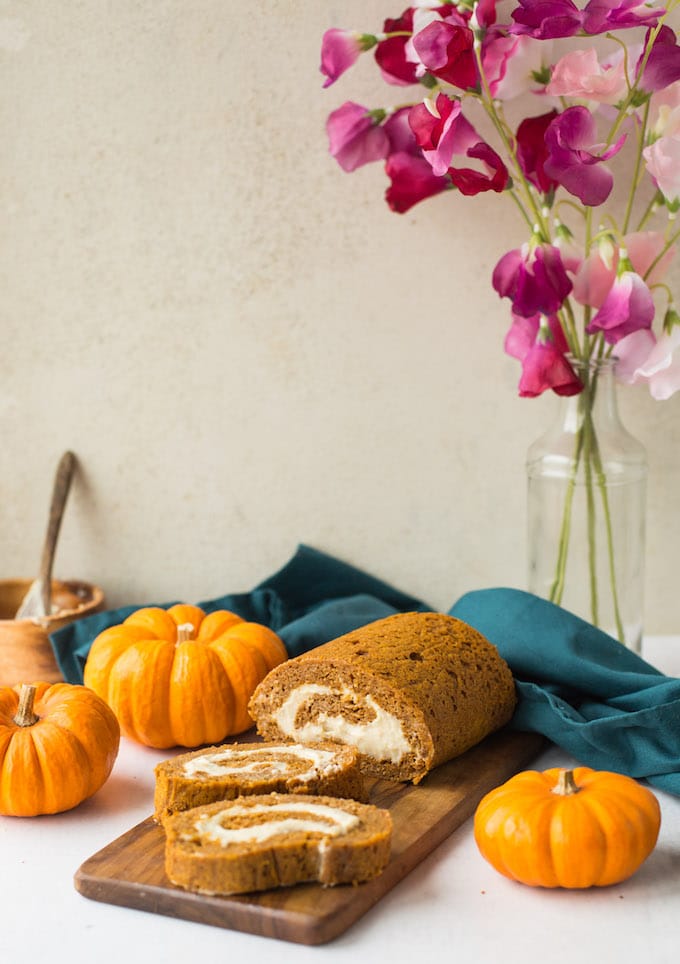 9. Vegan Pumpkin Cheesecake from Joy Food Sunshine
Pumpkin pie is one thing. But pumpkin cheesecake, without the cheese? Amazing. Cashews and coconut are the front runners here, and leave a delicious and creamy cheesecake filling.
Have a favorite healthy pumpkin recipe that we missed? Share it in the comments below!
I may earn a small commission off purchases made through affiliate links in this post from Amazon and other sellers. This helps me continue to run the blog and keep providing you fresh content. Thank you for your support!